Meet the latest additions to our family
The Liebherr R946 Excavator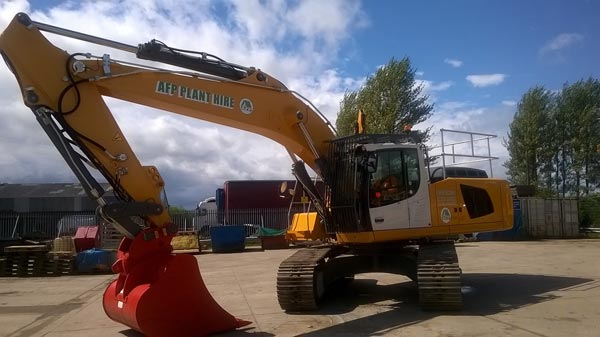 We are delighted to announce the arrival of our latest workhorse excavator for hire. This 220Kw engined excavator has been designed for minimum downtime, ergonomic working and increased productivity and with a backhoe bucket capacity of up to 3m3.
Watch the video to see this monster in action
Perfect if you need a large workhorse excavator for your earth moving project.
The Komatsu PC210 Excavator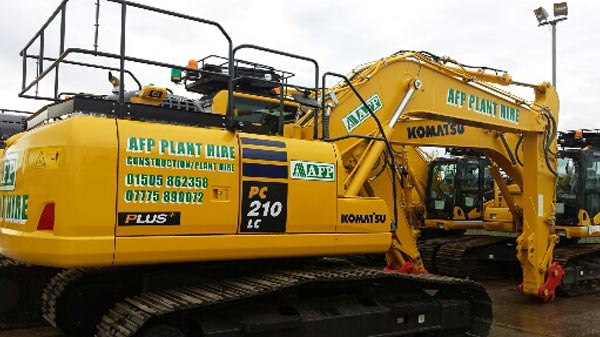 We are delighted to announce the arrival of our new Komatsu PC210 excavator. This excavator is designed to be reliable, economical, highly productive and very comfortable. A pressurised cab with plenty leg room really adds to the comfort of this excavator.
More details about this excavator can be found here
Perfect if you need a comfortable, economic excavator for those long lasting projects.
Modern and highly maintained equipment for hire!
At AFP Plant hire we pride ourselves in gathering and maintaining our equipment to the highest standards possible
to ensure our customers get the best use out of them.
Plant Hire Range
We offer a range of Excavators/Backhoes, Tractors and Trailers, Fuel Bowsers,
Dust Suppression Tankers, Grass Cutting plant, Salt spreaders and other plant items.
See our range of plant items for hire